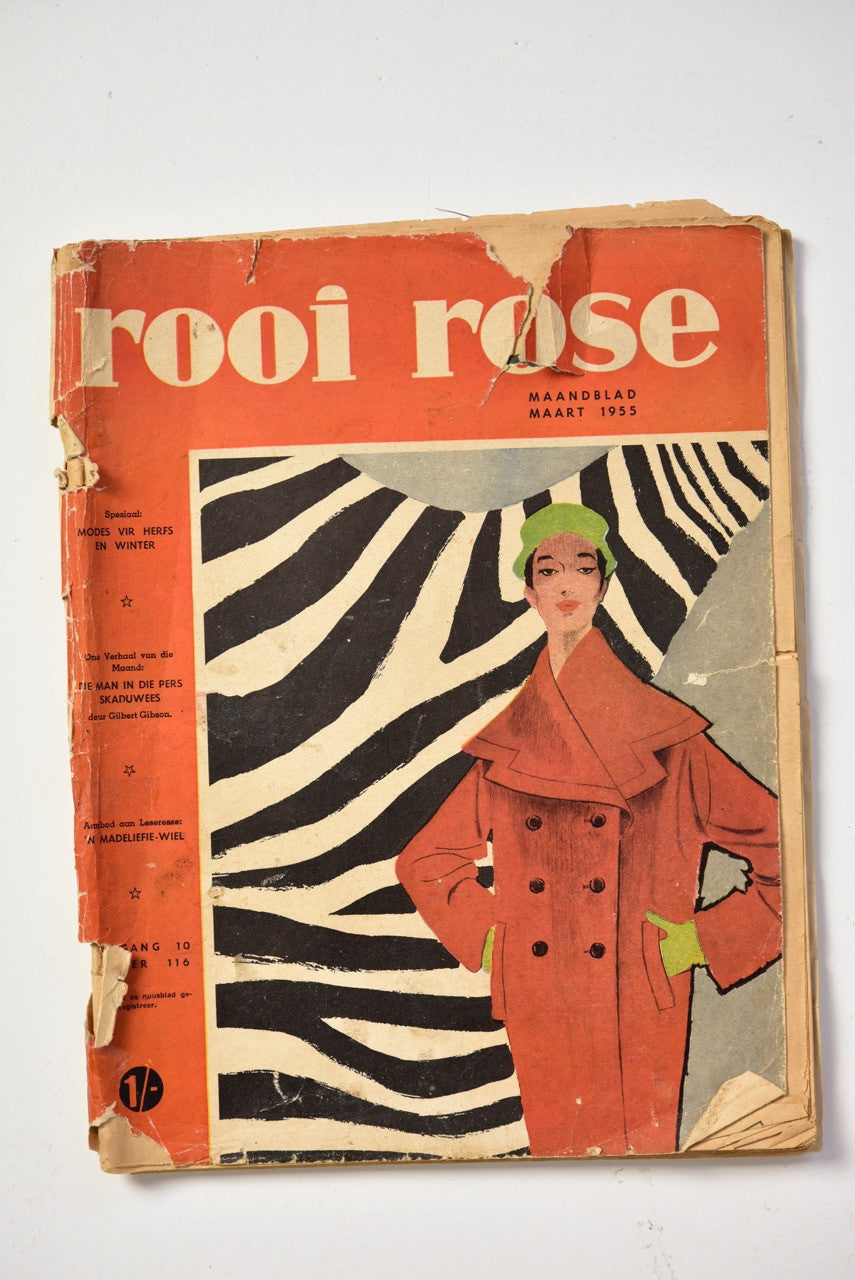 RIALHEIM & ROOI ROSE CELEBRATING 75 YEARS OF BRAVERY
Rialheim is still in its infant years. We recently turned 4 years old and like most young souls Rialheim loves the opportunity to play and draw inspiration from the stylish, the extraordinary, the older and wiser souls, as we discover our own path and our own magical world.

At the end of last year I got a call from Rooi Rose asking if we would like to take part in their 75th Birthday Celebration by designing a limited collection of decor and serve ware items for them. The invitation immediately took me back to the memory of when we unpacked my grand mothers attic 3 years ago; during our move to Clairvaux, Robertson. 
 After 27 years we unlocked the attic and discovered  amazing treasures; amongst the treasures were old Rooi Rose editions; each vintage edition even had notes scribbled on the side of the pages that my Mother had written. As we paged through the pages Daniel asked me why I was suddenly so emotional. It was the first time in 27 years I could feel close to a woman that had inspired me, loved me and showed me from a young age how to be brave.
In many ways the collaboration with Rooi Rose has been a celebration of my own heritage where love and bravery was required from all of us. It was only during the first meeting with the team of Rooi Rose where I fell in love and I had personal connection with the story of Rooi Rose.
In April 1942, Hendrikus Potgieter, started Rooi Rose to inspire women and through story telling transporting them to a better world where there wasn't the reality of a world at war with itself. Against all odds, including his own health challenges and a war where resources was limited; he managed to bring his dream to life.
Today 75 years later his dream has survived a changing world and inspires women and men to this day. This is a real life testimonial that bravery can change the world to be a better place. Hendrikus Potgieter is living proof that one can and must dream, believe and fly! The Rialheim, motto, can bring beauty to the world.
As we worked through all the magazines in the archives at Rooi Rose the front Page of March 1955  spoke about the beauty of a women, how women can bring change to the world in a brave, unique and loving way. 
The Rialheim Team would like to congratulate Rooi Rose and Caxton on this remarkable milestone. Celebrating their 75th Anniversary on due to the bravery of a man taking the first steps in pioneering one of South Africa's biggest Afrikaans Magazines. The collaboration was an unexpected privilege to me.
Here is a sneak preview, what you can expect to see in Rialheim store's, being launched in time for Motherly. Alternatively visit http://rooirosewinkel.co.za/shared?category=rooirose75 to shop limited collection online. Each piece was chosen to honour  The Front Page of March 1955, combined with iconic Rialheim pieces that always has a pinch of humour. The collection includes Table Top and Decor pieces.