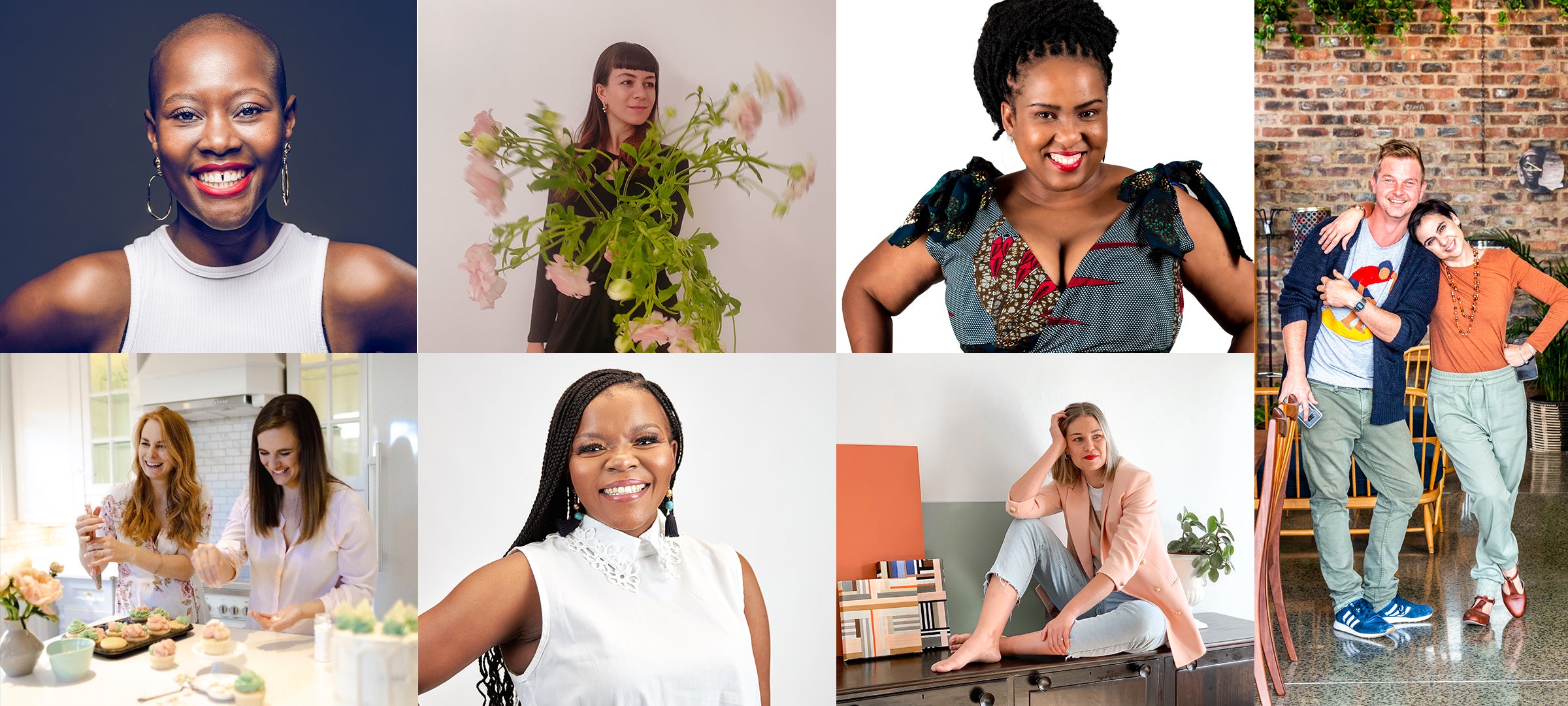 She Had A Dream - Celebrating The Women Who Inspire Us
Dream dreams of wonderment and apply them to your waking life dear women. Believe in your power, these dreams will take you to new heights, where you may sore and succeed in feminine delight. This Women's Day we celebrate women everywhere and those that have inspired us, by hosting our She Had A Dream event at Rialheim in Rand Steam, Richmond, Johannesburg. These women have passion coursing through their being, it is absolutely infectious and their energy grounding. We asked these inspiring women a few questions regarding their dreams, loves and life. 
This daring duo of boss ladies are at the helm of their successful digital agency and it seems as though nothing can hold them back. They are fierce and allow their dreams to guide them through the journey of being flourishing entrepreneurs. 
Zubeida Goolam and Sibongile Erica Mbuzwana or Sbosh are the founders of Valiant, a strategic digital-first creative agency. Their services include but are not limited to Digital Consulting, Digital Creative Marketing (Concepts and Rollout), Digital Brand Design, Content Production and Digital Media. They pride themselves not only in understanding and growing their clients' businesses but creating work that is out of the ordinary.
We asked them to tell us about how it all started and Zubeida had this to say, "My grandfathers on both sides were in business, so it was a natural progression for me to start my own thing. All I wanted was to be in a beautiful space and create beautiful work and that's how it all began and I really believe my grandparents would be proud." Sbosh goes on to say, "Well, I stumbled into my first job at an activations agency, this was my first taste of marketing and I was hooked. Launching big brands like Cell-C and The National Lottery got me meeting new people, working across other industries and realising new business opportunities. I then landed a position in client service. I remained in this position until I met Wayne and Zubeida and we then started talking about doing our own thing. Something different to the traditional agencies and so Valiant was born. This year, Wayne left the business to pursue other passions, allowing Zubeida and I to buy his shares, making us a 100% black female owned business."
We were curious to know how important their dreams are to them and how these have helped them succeed. Zubeida comments by saying, "I would be useless without my dreams. It's what keeps me going. I light a candle and visualise the dream and have learnt to manifest my dreams into reality. Think about it - how many things have you dreamt about over the years that have actualised? It's very important. It's life. It's like prayer." Sbosh adds her thoughts in saying, "My dreams are very important. Not only to me but for the wellbeing of my children and family. I now often find myself sharing my journey and dreams with others to help inspire and guide them. I am inspired by other dreamers, people who never give up on their passion and who are really determined to get ahead despite what life throws at them."
We wanted to know which of our products resonate most with them and Zubeida says, "My star sign is Taurus - an earth sign. I'm a very grounded person so I connect very much with the ceramic cow skulls. I have two of them. I also love the Rocky Horror Lips Utensil Holder, I keep all my affirmations in there - from my lips to Gods ears." While Sbosh shares by telling us, "I absolutely love the Geo-Wall Clock. It just makes me think that life can pull you in all directions but despite this, things happen when the time is just right.
Lastly, we wanted to know what advice they would give aspiring female entrepreneurs and to this, Zubeida replied, "Prepare to work very hard all of the time. Stay Humble. Remember that you're human - so look after yourself. Look for the lesson in every failure. Celebrate every win - no matter how small. You're doing okay – nobody is going to be there to tell you that, even when you need to hear it. So keep going." Sbosh goes on to offer more invaluable advice and says, "Never underestimate yourself or what you can do. As women we sometimes tend to shy away in crowed boardrooms and meetings. We think things like "Maybe I get labelled as too emotional," "Maybe I am too outspoken," or "I do not want to sound like an idiot". Put those thoughts behind you and voice what you need to get across. Move forward with persistence and determination and never give up on your dreams. You are woman enough.
Talya and her sister Gemma have always dreamed of creating and as it so happened they started making delectable, delightful and delicious treats and are the proud owners of the bakery, Butter Up. They've placed their dreams in the trusted way of the light and now put happiness in every bite.
Talya Jones is the co-owner of Butter Up (Pty) Ltd. This is a locally run, female-owned business that specialises in quality baked goods for popular cafes in and around Johannesburg. They also create bespoke cakes for all occasions including birthdays, anniversaries, weddings and small gatherings.
We wanted to know how it all began and this is Talyas' reply, "I come from a family of four girls. My dad raised us in such a way that we could and would do anything that we put our mind to. When my older sister, and now business partner, Gemma, and I were younger we often spoke about going into business together and creating something. Little did we know that a couple years down the line that would actually come to be."
We asked Talya how her dreams have inspired success in her life and she goes on to say, "First and foremost our business belongs to God. We believe that the success of our company ultimately comes from Him. He also gives us the ability to dream. At the heart of our business is family. Our team comprises of three ladies and we all have beautiful families that matter to us. This is what drives us to be strong, to do well. This is what holistic success looks like to us."
As Rialheim embodies dreams we wanted to know which of our products were her favourite, she replies saying, "It's hard to choose just one! I love so many of the products such as the Traditional Solar Vase - I love the natural marble-like colours. I also love the Moonrock Planters as I love flowers and plants displayed throughout the house. Then how can I say "no" to the African products - I'm patriotic about my country." 
Babalwa is a goddess in our hearts and a daughter of the soil. She embodies the magical and is resilient despite setbacks. She has found success through listening to her ancestors and staying true to her beliefs. 
Babalwa Stamper is the founder of YANA Indigenous Healing. At YANA they combine elements found in African traditional medicine, in natural plants and flowers to create an array of natural products from body butters, face serums, hair butters, face creams bath and soaking products, herbal soaps, infused oils and natural healing herbs and plant roots.

We asked Babalwa to give us a bit of insight as to how her entrepreneurial spirit took flight and she replied, "The concept for YANA came to me after what I call my spiritual awakening. However this isn't the first time I've taken the leap into entrepreneurship. In 2009 I started a marketing & communications consultancy called Blue Dot Communications, which is a field I trained and specialised in. This was during the World Cup craze where marketing budgets were plenty and jobs practically landed on your lap. Two years later all of that fizzled out, budgets got cut and business was hard to come by and 3 years after having started my company I had to close. I lost my home, I lost my car and had to rebuild from the ground up."

We wanted to know how her dreams literally translated into starting her company, this was her reply, "It was during this time that I got to discover who I truly was. I was always having these vivid dreams of people visiting and communicating with me but one particular 'dream' freaked me out so much because it felt so real and the message being conveyed completely blew my mind I knew that I had to dig deeper. Over the past 10 years I have come to discover that I have many spiritual gifts and my purpose in life is to help people heal as they are wounded physically, wounded mentally and spiritually."
We wanted to know what inspires Babalwa and she said, "For me, it's more than just focusing on my dreams, it's more about trusting my intuition, my spirit. If the spirit says it is so then it I will do everything in my power to bring it to life."
Babalwa tells us about her favourite Rialheim piece and she goes on to say, "It was the Eva Bust, a piece I bought when they opened their first store in Cape Town. I remember Rial was a bit surprised when I picked that one and I told him for some reason I couldn't explain it spoke to me. There was a certain serenity which moved me somehow. It still does every time I look at it."
Our final question to Babalwa was what advise she would give aspiring female entrepreneurs and she goes on to say, "Never allow the fear of failure stand in the way of your dreams. Know that it is okay for things not to be perfect and you can always bounce back from failure. Purpose and passion gave me the strength to weather the storms. Today I am back on my feet and back in the game."
Broghan's entrepreneurial spirit is quite apparent in her ability to see the unseen and arrange these into rousing arrangements. She has a definitive flair and believes at times we should stop and stare at the whimsical and wonderful, if only to aspire toward being one with nature.
Broghan Lombard is the founder of Skat Studio which is a Johannesburg-based studio specialising in flower and decor-rental and styling, creative consulting, wedding and event curation. The studio is named after my great grandfather, Skat, who acquired the name as an ode to his darling nature. The translation of the name from its Dutch origin lends itself to their family heritage and the deeply treasured experience of curating personal and intimate events.
We asked Broghan to tell us all about her dream of becoming a business woman and she has this to say, "My dream began in a unique and unforeseen way, which I describe as my dream-in-disguise. An unwavering adoration and appreciation for nature, art, and design, that was instilled at a very early age, held the foundation for my dream-in-disguise and ultimately gave me the courage and consistency to allow my business to grow from the ground up. And quite literally too."
We wanted to know what inspires her to dream and she goes on to say, "My inspirations to dream present themselves in the forms of people, nature, artworks, experiences that have been, and ones that I hope to come, and features from my imagination."
Moreover we wanted to know which Rialheim products she likes most and she told us this, "Some of my current favourite items are the white Osmosis planters, black Aldus pot plant holder, and the black Aldus carafe."
Tarien embodies the arts in her heart and is living her truth by means of artistic expression. With an entrepreneurial spirit she has many a lesson to share with all who care to listen.
Tarien Bruwer is an abstract Artist & Designer who works and collaborates on creative design projects under her own name. Whether it's art or design she works intuitively and allow her instincts to guide her, when it comes to exploring pattern and colour. She is in love with the variety of projects & exhibitions that she takes on and shifts between being an Artist, Graphic Designer, and Product Designer on a daily basis.
We asked Tarien to tell us about her dream of becoming an entrepreneur and she goes on to say, "Growing up both of my parents were self-employed and I think I've been born with an entrepreneurial spirit. It's simply just in my blood. I've always wanted to be my own boss."
We wanted to know what motivates and inspires Tarien and she replied, "I am motivated by freedom more than anything else and dreaming is crucial when it comes to creativity and art. My dreams fuel and energise me. Art and fellow creatives inspire me to dream." 
We asked Tarien about her favourite Rialheim piece and she had this to say, "This is truly a tough question, because there are so many pieces that I love! I was lucky to get a sneak peek into what's going on in the studio at the moment and there is one new product in the making that is pulling at my heart's strings (pun & clue intended) that will be launching soon & I can't wait to get my hands on one. Something we all have, an indispensable human organ that connects us all and is the start of all life. This product evoked emotion in me and there are so many reasons why."
Lastly we picked her brain and experience and wanted her to give aspiring female entrepreneurs advice and she goes on to say," Your dreams are possible and never let anyone tell you otherwise. Also don't let your own limiting beliefs get in your way. As women we all have a strength and life force worth reckoning with. Tap into that and channel your energy directly into your dreams. Don't get distracted by naysayers."
Dear dreamers, never allow them to water down your dreams for you are women. Always show up as the powerful woman that you are because you hold all the magic in your heart. We are so blessed to have been able to gather such inspiring entrepreneurial energy all in one space. It is a delight to have heard your dreams and aspirational thoughts. 
Larushka had a dream, she dreamt of leaving the corporate world. Through resilience and much experience gathered she took a leap and is now a success. 
Re-Trend was established in 2016 by, Larushka Marê. Larushka worked for a large financial institution for 20 years, however, always knew she wanted to have her our business and this had been her dream for years. Re-Trend restores one-off, mid-century modern, vintage & Retro furniture & collectibles - ready to be placed in your home. 
She goes on to tell us that, "A massive amount of time and effort is spent on restoration. We run a very hands-on workshop with a dedicated team on-site. A lot of the furniture we find was manufactured during the 50's or 60's. In most instances these pieces are still structurally ''ok'' and cosmetically reasonable. We do need to restore these pieces, however restoration on pieces that are structurally well put together is worth the effort and usually comes out near perfect.