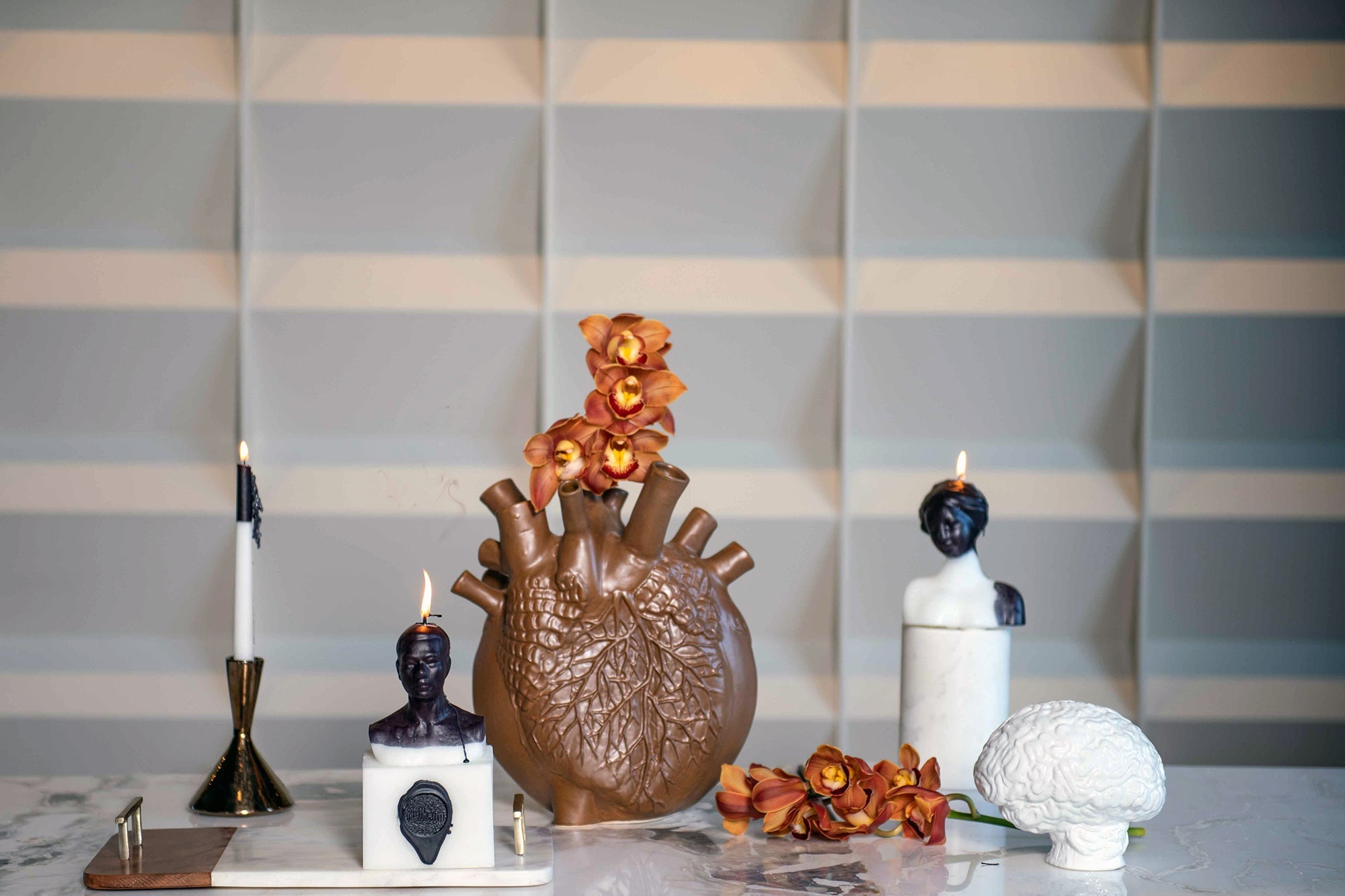 Rialheim presents The Anatomy of Clay Collection
Rialheim is proud to present our latest collection, The Anatomy of Clay. In this collection we explore the various organs within the human body and their symbology rooted in our human experience. 
Our anatomy connects us, the heart, brain, lungs. We are all the same. Just as clay is from earth, water and fire, everything is connected in some way. Through our organs we live a life of silent, collective connectedness. However, we are all so unique in the way we use these organs - no one person's imagination can match another. We moulded and shaped the clay to match this uniqueness, it is not a scientific representation of these organs, it is an interpretive rendering from our imagination. When viewed from the perspective of the observer, the details change and so does the interpretation of these pieces.
The process of bringing Anatomy of Clay to life
This collection is one of our most intricate and detailed to date with most products featuring a three dimensional design. On a technical level, our team of artisans worked tirelessly to create the subtle textures and detailed representation of the various organs, making adjustments from one prototype to the next. Says Rial Visagie, Rialheim's Creative Director, "Every story has a beginning.  It often starts with a simple idea. If ever there was a collection that represents teamwork, it's definitely The Anatomy of Clay. I am humbled by the amazing team at Rialheim, the unbelievable support of family, friends and suppliers. Together we didn't just have to move mountains, we moved both oceans and mountains."
This collection also debuts a brand new glaze by Rialheim called Sand. This matte shade of earthy brown harkens a strong sense of nostalgia and connectedness to the earth. 
To us the heart represents the past. From our past experiences whether immediate or not, this is where we draw most of our inspiration from. Our heart is the hub of our emotions and we regulate ourselves based on the interpretation of these, in relation to the days that come and go. Love, the most powerful, we believe, of all emotions is seated in the centre of our being. Without love how do we move forward, how do we get inspired? It is nearly impossible. The heart is the place from which we move from life into art. There simply can not be art without heart.
The Pumping Love Heart is now available in limited quantities as a medium vase, large vase and mug.
The brain, the most strangely unique organ in our bodies. The mind is where imagination lies in wait for us to access it. With this supreme organ we can alter, shift and create our own realities. We choose to use this organ to create a world in which we want to exist in. The mind determines our future, within every second there is endless potential. As we navigate this life, our mind's are the only constant that exists with each of us. As artists we believe that it is important to treat this organ kindly and therefore ourselves because the world is perception and perception is the world.
The Creative Hub Brain is now available in limited quantities as a small vase, large vase, décor object and mug.
The act of breathing is the most natural experience and vital to us being physically conscious. Breath is our life-force. To us the lungs represent the present moment. Our lungs are the organs that keeps every other organ alive, without oxygen we do not subsist. Within the present moment, lies a sense of calm when we are surrounded by chaos. For the sake of clarity and consistency the artist must focus on taking time to be present in order to gather and discard thoughts in order align with their creative selves fully. 
The Just Breathe Lungs is now available as a vase, a table lamp and a mug.
Our skulls are elegantly designed with a rough exterior, the cranium in which our cerebrum is held safe. Within this space our thinker, the seat of consciousness, a multitude of treasure it must keep safe. The skull is the hull of our very soul. It protects and perpetuates our dreams and imagination. It is a sacred vault where our savvy is held for safe keeping. Without a braincase we would have no space to think, rethink or reason.
The spinal cord is the gateway to connectedness between heart and art, lungs and life, this is how the brain does reign. It is the passage through which our consciousness does travel and without it we lay to waste, our bodies cannot be replaced. Within this cord lies our full life force, a delicate weave of nerves and neurones. These communicate in an endless conversation, whispering in a sacred voice - how, when and where our next choice. To move, to think, to pick up some clay and create. 
The Backbone Human Skull is now available in limited quantities as bookends, a décor object, table lamp and mug.
Let us know in the comments below which piece from this collection is your favourite?