Article: Heritage Day Celebrations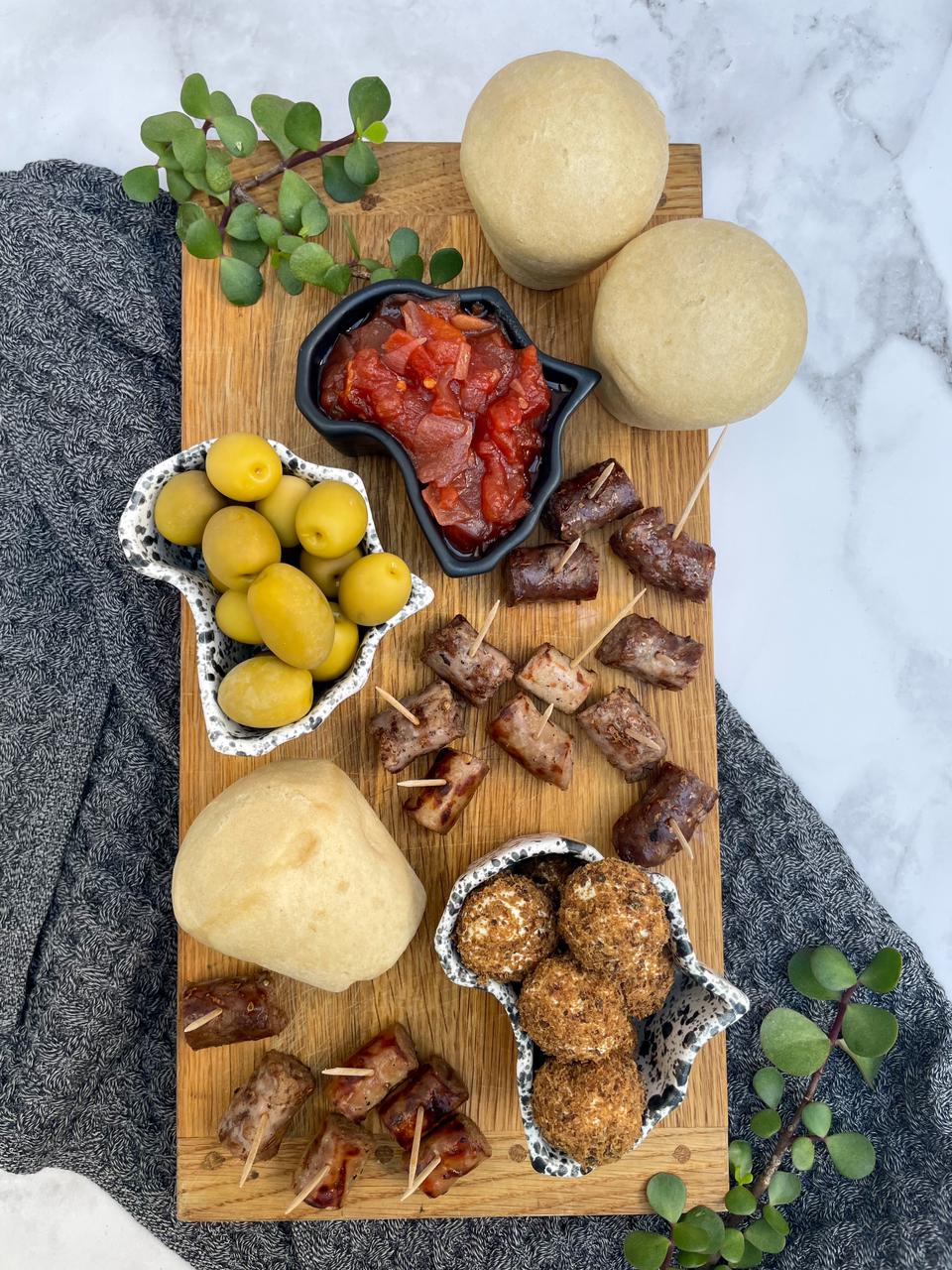 Heritage Day Celebrations
DROOLWORTHY SNACK BOWLS FOR THE WEEKEND WITH RIALHEIM & FRIENDS!
Heritage Day Celebrations.
"'Tapas" in Spain and "meze" in Greece while Italians call it
"antipasti". In France you'll have an "Amuse-bouche" (mouth
amuser), but right here in Mzansi I like to call it a
"proetjie platter"
"Proetjie" is the Afrikaans word for a small bite of meat or
sausage (boerewors to be precise). The proetile is often
served directly from the braai by the Braai Master - straight
into the hands & mouths of bystanders to give them a small
taste (aka proetjie) of the deliciousness that is still to come.
No matter where you are in the world, you'll probably agree
that a small bowl or three or even just a single bite to amuse
your mouth is the perfect way to start your Braai Day, watch
the Rugby World Cup and "kuier" with friends this Heritage
Day! -Yolandi North
Styled with Rialheim's Africa Tapas Bowls. 
THE RECIPES
BILTONG & CREAM CHEESE BALLS
Ingredients: 250g Cream Cheese 100g Goats Milk Cheese 60g Biltong Powder
Method: 1.Add goats cheese & cream cheeso in a bowl of a stand mixer with paddle attachment & mix until you have a smooth mixture. (You can also do this by hand). Cover & refrigerate for about 10-12 minutes until firm. 2.Scoop the cheese mix into balls. You may want to use a table spoon measuring spoon & take 3/4 spoonfuls. Now roll the cream cheese mixture into balls. 3.Pop the cream cheese balls into biltong powder & roll until covered completely. 4.Place on baking paper on a plate. cover & refrigerate until you need it. 5.Serve with fresh bread or crackers. 
TOMATO, GINGER & CHILLI JAM
Ingredients: 2 Red onions, chopped roughly (+/- 300g) 500 g (4-5 medium) Tomatoes, roughly chopped 1 Fresh Red Chilli (or more for added kick), finely chopped 1/3 cup (80ml) Red wine vinegar 150g Brown sugar 2x Thumb sized fresh ginger, cut into mini matchstick sizes
Method: 1. Add red wine vinegar, brown sugar & ginger into a large pot over medium heat. Let the sugar dissolve into the vinegar. 2. Add red onion, chilli & tomato. 3. Stir through & simmer with the lid on for 30 minutes until jammy, 4. Drain the fruity bits through a colander. Retain the liquid. Put the liquid back in the pot. Reduce (simmer without lid). 5. Add the fruit back into the pot. 6. Scoop into a sterilised jar & leave to cool. 7. Serve with breakfast, lamb burgers or cheese.
TO SERVE: place olives, Biltong & Cream Cheese Balls and Tomato Chutney into the Rialheim Africa Tapas Bowls. Place the bowls, Dompolo pread and the boerewors on a wooden board. Garnish with fresh herbs or spekboom cuttings. Enjoy!
Meet Our Guest Creative:
SHE'S A LIFESTYLE MAVEN AND RIALHEIM FAN. 
Yolandi is a lifestyle content creator. She loves to create,
curate and enjoy all things food & home. Follow her on
Instagram or connect with her at http://azestylife.coza/.