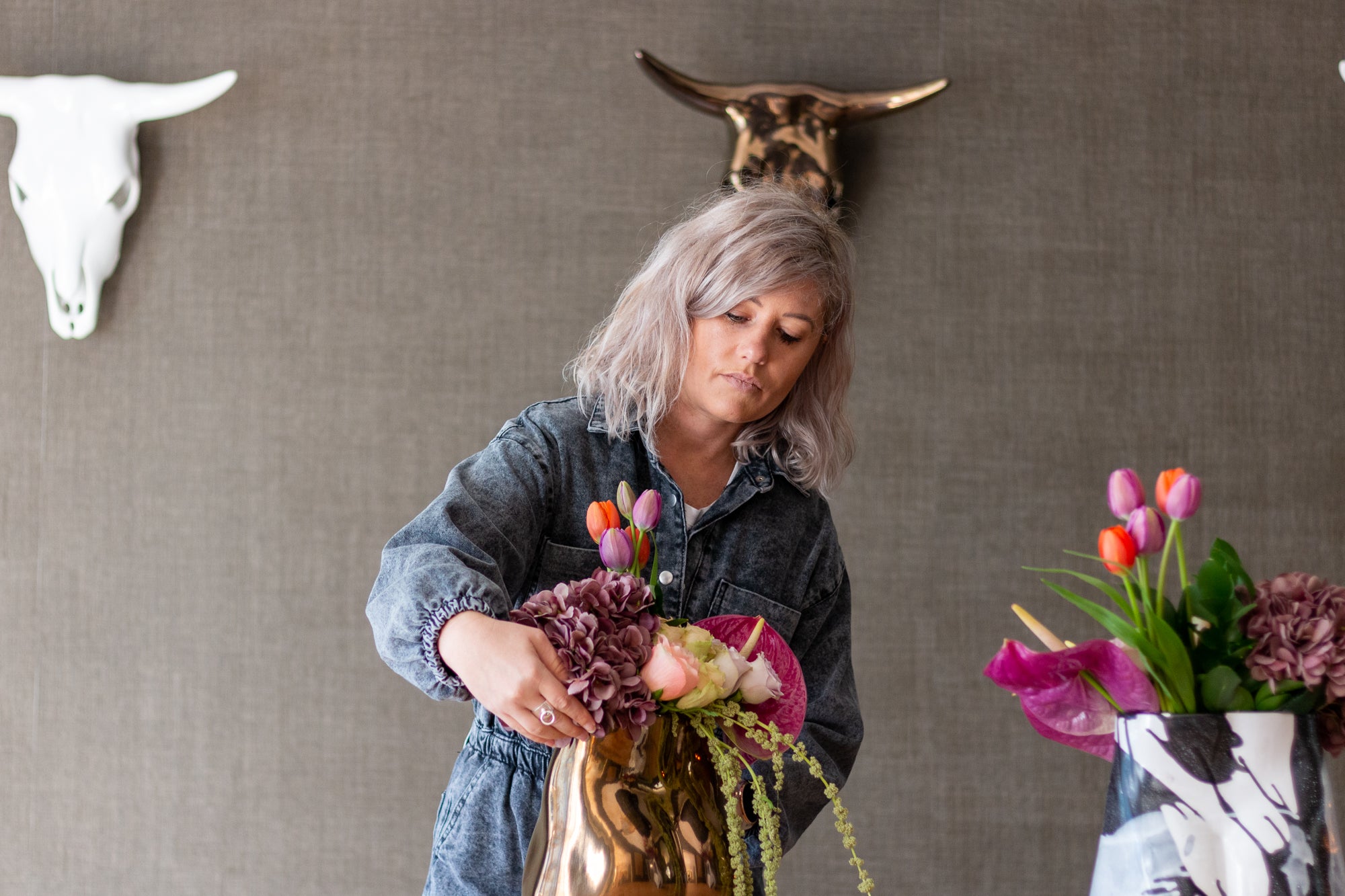 Styled Spaces - Laurian's Monochromatic Johannesburg Home
Laurian Friedman is a Senior Category Manager working in the beauty industry with a modern and monochromatic aesthetic in her home. Her style is minimal with layered textures and a collection of unique objet d'art that adds warmth and interest throughout the space. She's also an avid Rialheim fan and has managed to beautifully incorporate Scandi-minimalism with Afrochic. Laurian recently invited us into her abode, which she shares with her husband Steven and son Ashton Riley, to discuss her eclectic and modern approach to interior design. Welcome to Styled Spaces and read on for our 7 things you should know about Laurian and her style.
Photography by Darryl Gouws. All floral arrangements by Margot Meyer at Flowers By Design
Meet Laurian
Laurian describes herself as an open book and loves fashion and design. She started her career working in fashion and has recently transitioned to the beauty industry but with a passion for interior design she'd love to explore this more in the future. 
"I love being creative and feel like I can express myself through interior design, art and fashion," says Laurian.
Her approach to styling her home
Laurian keeps an eye on current trends in interior design making sure she knows what's new and hot but still keeps to what she loves and what speaks to her. 

"I tend to go with very modern, clean lines but mix it up and make it quite eclectic by introducing different styles or genres like introducing a very classic piece juxtaposed with something much more modern. I also love mixing materials and textures to create visual interest and drama. I'd say that's my signature, I also absolutely love monochromatic styling taking statement black pieces against a white background with pops of metallic, ceramics and wooden textures to add depth. I also love taking chances mixing funky colours and designs as accent pieces which is why I gravitate towards Rialheim because they produce a range of funky, statement pieces that help break up the space and spark a conversation."
Her favourite designers and artists
"I obviously love Rialheim's work as my house is full of their pieces but then I also love African artists such as Solomon Omolayo Omogboye and have a piece above my fireplace. Another artist which I would love to add to my collection is Nelson Makamo whose portraits assume an innocent perspective almost inviting the viewer to connect with the most carefree versions of ourselves. I've also introduced pieces by Ari Hersch that emulate my look and feel and then of course I love Weylandts which have some really cool pieces that I have throughout the home. African pieces really speak to me and I try to incorporate as much African work into my home as possible.

Laurian's must-haves in any home
"I love entertaining and hosting at home so I would definitely say a big, chunky dining room table and server styled with some of my favourite quirky pieces is a must in any space I call home. And then of course my artwork, which not only brightens up a space but helps give it personality and character. Artwork is key and I've mixed it up with some original pieces, prints and canvasses that are a budget-friendly way of introducing art into the home. I love art and entertaining so these would definitely be my must-haves."

Her favourite Rialheim pieces
"I discovered the brand many years ago when Rial and Daniel first launched it. One of my first pieces was their Robot which I absolutely loved and couldn't get enough of so I came back for more. I would love for them to bring the Robot back as I just love that piece. My other favourites include the Large Cow Skull which I've collected quite a few over the years and have created a statement wall in my dining room using them. And then the quirky pieces like the Rocky Horror Utensil Holder and Tuchus Planter add a cheeky element to the space that when people come over they immediately notice them and start a conversation."

What upcoming interior trends should we be on the look out for?
"I see the big retailers like @home are starting to stock more objet d'art which I absolutely love, mixing metal with marble, bringing ceramics in for texture. So that's definitely what's catching my eye at the moment, looking out for really cool objet that creates that talking piece and makes a statement. In terms of colours although I'm going to stick to my monochromatic look, I do appreciate the metallics and textures that are currently on-trend. I also really love the faces and busts that are making a big comeback, objects with a human aesthetic is also definitely something to be on the look out for. I'm currently saving up for a few Jonathan Adler canisters for the bar which are really fun and quirky."

A quote to live by?
"Follow your heart and listen when it speaks to you"

You can shop Laurian's Look here.