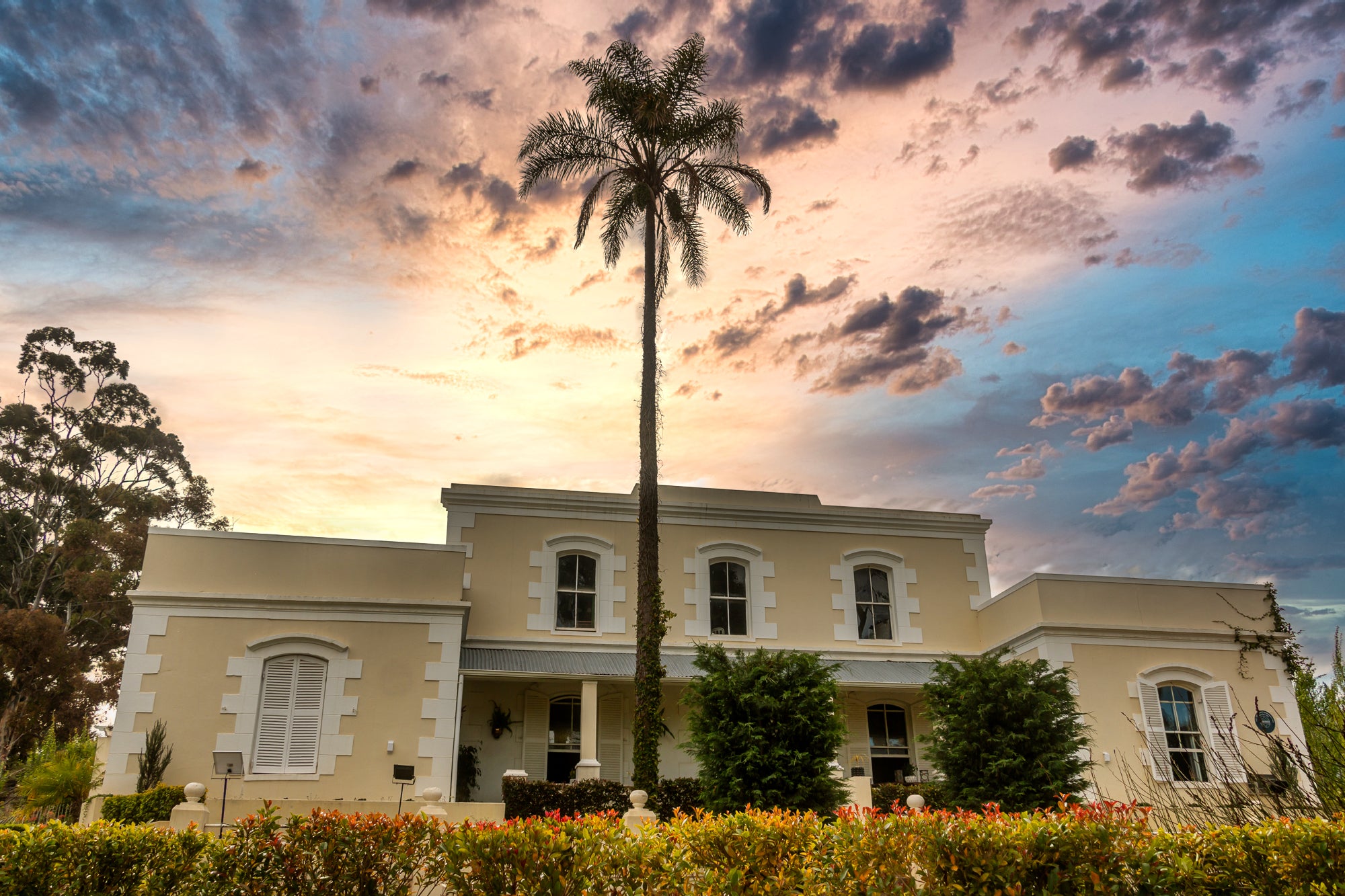 From our home to yours. Clairvaux Estate - the birthplace of Rialheim
Photography by Darryl Gouws Photography

In Robertson lies a magical piece of land, a land where dreams allow the imagination to soar and creativity flows freely. Clairvaux Estate is the home of Rial Visage and Daniel Swanepoel, whom together have combined five generations of legacy and their contemporary style into a modern homestead. As a married couple they have shared beautiful moments here; birthdays, celebrations, wedding anniversaries and the conception of Rialheim. Nestled in the Cape Winelands in Robertson, it is a mystical place which inspires their dreams and allows their imaginations to soar. 
Rial the founder of Rialheim had reimagined a part of the estate, into the Rialheim atelier. In 2012, the old stables and barns were renovated into a fully operational ceramic studio. Since then, this is where every Rialheim piece has been conceptualised and created and their home is filled with his favourite creations.
For Rial and Daniel, Clairvaux Estate represents so much more, it is their home and it's the place where they are most at peace. As they have evolved as creatives and designers so has their home. This property has been in Rial's family for generations, this is where his fondest childhood memories were made, visiting his grandmother during the holidays. When visiting the home there is a definitive sense of warmth, which has been laid into the foundation of the property and fascination and passion which has been brought in by the new generation.
As you wonder through the house you can see the couples' innate love for the arts. Daniel having studied fine arts and possessing a natural flair for painting, has created exquisite pieces that decorate the walls. In the dining room, is one of Rials' favourite pieces by Daniel, he goes on to explain, "This piece is very sentimental to me, it was the first painting Daniel did for me, right at the beginning of our relationship and holds a dear space in my heart and in our home".
Rial has always believed in the extraordinary, he knows there's magic that exists in the world, and this world lies in his imagination. A world filled with fairytales, his favourite quote is one by Vivienne Westwood which reads, "The adventures of Pinocchio. It's a philosophy of life… so naughty. So wild. But he's got a heart of gold. And of course, that's what saves him". In his home there are pieces that speak of his childlike, fun side and his fascination with the whimsical. On a table top in the Gossip Bar lies a tiny figurine of Peter Pan and beneath it a book of the tale of the boy who could fly. To Rial this has significant meaning as he explains, "I relate to the world of fairytales and children stories because in that, lies immense depths of imagination. This is where I find my inspiration, within my own world and this is where I fly. In my world I am Peter Pan." As he laughs he gets a sentimental glint in his eye as he continues, "This is one of the many reasons why I married Daniel, he believes in that boy and so for our 10th wedding anniversary he bought me that tiny figurine and now it will forever be on display in our home."
Rial has not changed a thing at Clairvaux Estate, no wall has been removed and no door has been replaced, it is very important to him to keep the homestead as was originally built to pay tribute to his forefathers and to hold onto the magic that lies within, filling the home with pieces of them and the things they love. Much of the furniture has been carried down from generation to generation and they décor, with a contemporary flair, is inspired by local designers such as ICONOMY and Carrol Boyes. 
The Clairvaux Estate, which has been in his family for generations has a rich history. It has been the home of many influential and inspirational individuals who have cast it into what it is today. Rial and Daniel have reinvented the space inside the home, filling it with pieces of themselves, inspired by contemporary design. It is an extraordinary space which inspires all who visit and all who have been to be brave enough to dream, believe and fly.